With about 2 months to go, many of us have already signed up for PASS Summit, which is going to take place from November 6th– 9th in Seattle, WA this year. Some of you, especially from overseas, may still be struggling… Is it really worth it?
With 3-5 days (depending on whether you're doing precons) gone from work plus travel expenses plus the event itself, it is an investment for sure. Will it be worth it?
This is an IT conference so there can only be one answer: IT DEPENDS! ?
It depends on what you make out of it!
Let me describe how my first PASS Summits worked out for me so you can learn from my mistakes…
My first PASS Summit (2010)
On my first PASS Summit, I only attended pre-Cons but not the main event, because I was in the US anyway that week but had to be with a customer the rest of the week. Let's pretend, this one doesn't even count. Not only because I did miss the main event but also because those pre-Cons did not completely deliver what I was expecting – that was my fault mainly. Why? Because I did not pay attention to the levels of the sessions. I thought "well, these are super renowned speakers, it must be the super deep dive" but they were both 100 or 200 level sessions on topics that I already felt pretty comfortable with. So just because the speaker is super knowledgeable on a topic does NOT mean he is doing this session for likeminded people – it may as well be an intro session.
My second PASS Summit (2011)
OK, second PASS Summit. This time I was much smarter. Or was I? Well, I attended the whole show, I picked all the right sessions with the right topics and levels and speakers on everything that I needed for my day to day job. I was attending a session in every single slot. And in the evening, I went to my hotel, trying to cope up with my eMail backlog and stuff I had learned during the day. But again, not every single session was exactly what I expected, not everything I've learned was brand new to me etc. And I didn't meet any new people.
My third PASS Summit (2012)
HA! This time I was so much smarter again! Or… was I? I did intentionally choose some sessions out of focus areas that were completely out of my field at that time. Of course, in some of them I did not understand a whole lot of what was going on because I was lacking some fundamentals, but that really helped getting some perspective on fresh topics. Also, if I just did not find a "right" session in a slot, I simply skipped one and used that free time for other stuff. But again, I did not meet new people. Why? Because I just was not trying. At PASS Summit, you don't have to try hard to make new friends. A simple "hello" will do ?
My fourth PASS Summit (2014)
So this is the year I really started being smart – was about time. I followed that PASS Summit's hashtag on Twitter so I knew where people would meet (one very popular place is Tap house, which is very conveniently located just a block from the convention center and you will always run into #sqlfamily members there). I just went there, approached a table of SQL geeks and asked if I may join. Of course, I was welcomed with open arms like everybody else would have been. This is the really great part about PASS Summit: Meeting all these amazing people, connecting with them and being a part of the #sqlfamily yourself!
My fifth PASS Summit (2015)
Now that I knew the drill, it was a piece of cake! That year, I was lucky enough to meet the Biml family. 4 months later, I attended and spoke at my first SQL Saturday (SQL Saturday Vienna 2016). 2 months after that I became a BimlHero. The year after that, I had the huge honor and pleasure to be on the writing team of the first (and so far: only) Biml Book. And in March of 2018, I received the honor of becoming a Data Platform MVP. And it all started right there. At PASS Summit. Not by just sitting there, trying to learn as much as I can but by making new friends and growing with them – professionally and personally.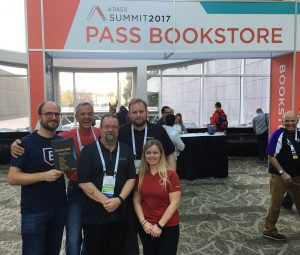 (Some of the awesome authors of the Biml Book – Cathrine, Andy, Scott, Reeves and myself)
So long story short: Should you attend PASS Summit?
Oh yeah! But with the expectation and aim to meet lots of fun new people, get connected to some of the smartest people of our industry and also to get out of your comfort zone a bit and maybe learn about something that you haven't been involved with at all so far! Plus also, of course, learn something that will immediately useful for you ?.
If you have not registered yet, do so NOW! :)
See you in November – if you see some German guy with a messenger bag with the Nerdycorn on it, please stop and say hello!